Hikes
Bieslandse Bos, Staelduin and Kruithuis campsites have an agreement so that you don't pay any extra camping fees. If you camp at one of these three sites and hike to another, the camping fees for the overnight stay are included in the price of your main summercamp.
Note: There's no need for a separate reservation in advance. We will make a call on arrival of your camp when you tell us what day your hike is (or we'll be getting a call from the other site).
Directions to Staelduin
Acker- and Biesland Bike route
---
Hike from Bieslandse Bos to campsite Staelduin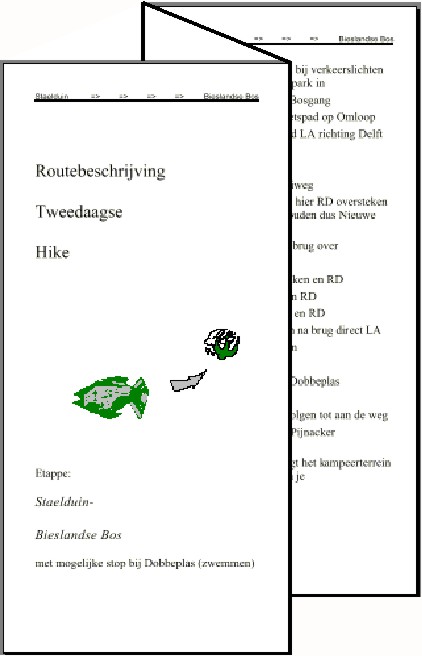 On this page, you can download a route description from our campsite to the Staelduin campsite in 's Gravenzande. It is either for walking or cycling, and takes you by some nice places.
The route was made by our Staelduin colleagues, and on the back you'll find directions for the route back to BB.
Click on the folding example picture do download the route in Adobe Acrobat reader format.
---
Acker- en Biesland bicycle route
Our campsite is part of a larger nature area (or at least what we call nature in Holland). There is a municipal bike route that takes you to the most outstanding bits of the 5000+ acre area. You can choose between a 12 and a 20 mile route; both are signposted, and on the website of the municipality, you can find details albeit at the moment these are in Dutch only.